MonkeyWerx: The Sicilian Defense – D5 | Deep State Panicking because NOTHING CAN STOP WHAT'S COMING, No China War
Almost everyone who has given Q a fair day in court recognizes that it is not a LARP or fake. All the evidence points to the time we're in right now. Something is happening and we're about to see epic events unfold.
When MonkeyWerx says Q "is definitely a psy-op" he doesn't mean what you might think. Normally, when people hear psy-op they think: fake, untrue, a fraud that's designed to deceive you. In this case, psy-op means psychological operation, a literal meaning. The operation is designed to psychologically activate the sleeping public. It's designed to intimidate and psych out the deep state. And it's designed to inform the public about what's coming.
It has been a sweeping success. Despite what haters say, Q hasn't pacified anyone. It's mobilized millions of patriots who are more immune to disinformation, created staunch critical thinkers and activated the spirit of freedom that has helped us combat the color revolutions of the globalists like George Soros.
Can you debunk something you haven't identified properly? Can you say something is bogus, fake, and a LARP if you haven't taken the time to understand it first? No, you can't. So don't let the Q haters get to you. Q is very real. The information is real. And the operation is real.
If you take the time to understand it and what "the plan" is—which will take effort on your part—you'll see for yourself that the plan is unfolding before our eyes—which is to drain the swamp, stop the "sick" criminals in politics and government, and restore power to the people—precisely what Trump said he'd do back in 2016.
MonkeyWerx is going dark after this post. He doesn't want to hinder OP-SEC—operational security.
He suggests you prepare. I do too. Get food. Get water. Pray and gain psychological and spiritual resilience.
He also says that "do not get caught up in the hype of this whole Chinese invasion at our borders. It is disinfo. Trump and our military would be acting completely different if this were taking place and our military air traffic does not support this information."
– Justin
For those of you who have been following the Q drops, you will understand what I am about to discuss better than others. For those who have not, I will try to explain this in a manner that simplifies what you are reading. If you are not familiar with who Q is, I would recommend you go take a look at the website Q! and the previous drops.
I will be the first to tell you that it is definitely a psy-op, but it is also pro-patriot and its purpose to wake people up has definitely been met. You know you are over the target when you get attacked for just mentioning it. In fact, I am putting this blog on my own personal website as a layer of protection because any other way would have me likely ban-hammered.
Okay, onward and upward.
It has been said that Trump is a master chess player – "5D" in fact. I have not been able to find anything confirming that other than him hosting a Championship event at Trump Tower. It doesn't mean he can't play or study it and become very skilled at it by any means, it also doesn't mean his Military Intel advisors aren't the actual chess players either – in fact, it is very likely. One can just read the Art of the Deal and know that Trump is successful because of the manner in which he approaches things not to mention he is also a very intelligent man.
The Sicilian Defense is a complex chess strategy that has been around since the 16th century. Don't let the word "defense" fool you, as the Sicilian is an aggressive, complex opening with many variations. Toss in "The Dragon", variation of the Sicilian (which by the way was named for its supposed resemblance to the constellation Draco), and it becomes very lethal as it creates a commanding position on the board. All while allowing your opponent to ultimately move into their own demise, which defined means: (Law) the immediate transfer of sovereignty to a successor upon the death, abdication, etc, of a ruler (esp in the phrase demise of the crown). You see, it is playing offensively from a defensive position – wrap your head around that one!
---
Shall we play a game? Don't think I am right on this? Just ask yourself why Joe Biden's personal security detail is named "checkmate". They know, and all this time they too are playing the game. But hey, honestly, checkmate security is NO MATCH for our military.
Back to the Q drops: You probably noticed there are MANY castle callouts, dragons, bishops, D5, etc. scattered throughout. That is not a coincidence. Throw in the reference to "think mirror" and 5D chess quickly becomes D5 (5D/D5). Confirming we are indeed watching Trump back his opponent into the final kill position. The issue then becomes the fact, that like cancer, this evil is rooted and has spread beyond our own borders. Yes, the castle callouts have a double meaning, but the strategy applies to chess.
The "Sicilian" is an obvious Italian reference so we will let that transition us to the Italy piece where we have the recent spree of things happening: US election fraud ties, arrests, 43 "bishops" meeting their maker from "coronavirus", not to mention the blackouts at the Vatican and the sea of black vans leaving the facility from some sort of an apparent raid. Things definitely seem to be playing out in a way that would indicate "something" is happening. All while the media seems to be silent.
Indeed, the Vatican seems to be at the heart of all of this as Q calls out the Pope several times as the "Godfather III." It should also be noted that the Corleon crime family is also Sicilian. So tieing the Pope as the Godfather and the head of the crime family should not be a shocker as to why this whole thing is referred to as "biblical." I will tell you, there is another biblical reference that ties all of this together as well as providing an indicator on the final move. That piece I have also referred to as "the revelation" will come later as I am unable to disclose it due to OpSec.
---
Now we will step away from the Q aspect (it will be back at the end) and just talk about Trump and strategy.
Many of you have at one point like me, thrown in the towel and accepted that We The People will probably have to do this ourselves if we want to see anyone held accountable. I personally have been back and forth with that several times in the past month. However, I will tell you, if you step back away from the twitter feed and mainstream media and go look at the things Trump has put into play over the past two years (most of it in the past 3 months), you will see that this is FAR from being over.
First, take a look at the EO Trump put into place in 2018 for a cyber force that was tasked with monitoring election fraud. Yes, you heard me correctly. So in this past election, Trump, along with a dozen other folks sat inside a SCIF at the Cyber Command location and watched this whole thing unfold – all while the "system" captured and recorded it. So why hasn't that been fully disclosed and used? Because this is the essence of the Sicilian Defense – all part of the plan.
Next, we have the stand-up of the Special Operations Command on November 18, 2020. Just to give you a quick history lesson, JFK is the guy who really got the Army Special Forces the support they needed to get up and running. President Kennedy believed that the United States needed a strong unconventional-warfare force to battle Communism. It is said he also did it in an effort to thwart the CIA and their shadow government work. If you have read my piece on the Five-Star Trust, you will see how it all fits together.
If you know anything about Chris Miller (Acting Defense Secretary), he was a former Green Beret and all-around bad-ass. Chris, of course in his speech to kick things off brings in the JFK quote – "The global demands for special operations forces, then and now has confirmed President Kennedy's foresight. And now under the leadership of President Donald J. Trump, we are fully realizing President Kennedy's prescient view of special operations forces," he said.
Then, we have the exit of key personnel like Esper, Barr, Haspel, Wrey, to name a few, followed by a December 10, 2020 Executive Order on Succession within the Department of Defense putting Deputy Secretary of Defense David Norquist directly under Acting Defense Secretary Chris Miller (so we have a double layer of loyalty). For those not familiar with Mr. Norquist, he was the first guy to ever audit the Defense Departments' books – appointed by Trump himself.
That brings us to FEMA and the Stafford Act. Now it is a bit of a read, but I will tell you that it puts a level of control within FEMA that many people do not know about. It is also important to understand that Trump signed an EO authorizing the Stafford Act and the declaration of a major disaster in March 2020 (very important). That authorization is still active.
In a nutshell, the Act gives FEMA the responsibility for coordinating government-wide efforts. The Federal Response Plan includes contributions from 28 federal agencies and non-governmental organizations. This also gives latitude to the "unity chain of command" spoken of by Pence in his speech to the troops on Jan 16, 2021.
The word "unity" is not a common term as typically it is just referred to as Chain of Command. That subtle difference means that in the instance of an unforeseen event, troops should work together with other operators, law enforcement, fire and rescue, security in the immediate AO (area of operation) rather than follow their Chain of Command. Let's not forget about the recent letter from the Joint Chiefs in which they threaten sedition to the troops if they choose not to follow the Chain of Command. Coincidence?
Lastly, take a look at the amount of military in play in Washington DC for the inauguration. There are multiple parameters set up, ID's being checked to enter and exit the city, miles of razor wire and fencing, not to mention some 25,000 troops on the ground – "for an inauguration." Doesn't add up, does it?
Makes sense why Pelosi wants to make the event virtual and why Joe has canceled all of his rehearsals! Clearly, he doesn't want people getting an advanced look at his security detail and I imagine he isn't feeling warm and fuzzy about all of this. They certainly seem to be very nervous, but why should they be? They have this whole thing in the bag, right? Not so fast.
Now we go back to the Q site with drop 35. It is the ONLY drop by POTUS himself, signed as 4.10.20 or DJT.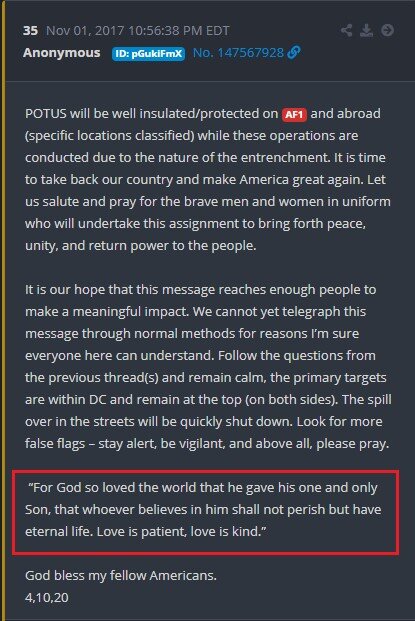 Folks, what we are about to witness is the greatest military event since D-Day and Normandy Beach in WW2. NOTHING can stop what is coming. No doubt, blood will be shed. Please pray for our President, our Troops, confusion in the camp of the enemy, and for our Brothers and Sisters in Christ.
What I would expect over the next several days based on the above drop – an EBS from POTUS and then likely an internet and media blackout with a short-term lockdown for our safety.
For God and Country.
One final thing, do not get caught up in the hype of this whole Chinese invasion at our borders. It is disinfo. Trump and our military would be acting completely different if this were taking place and our military air traffic does not support this information.
I will not be posting any overwatch reports until after Jan 20 for OpSec reasons (3 days out) and likely following the blackout. Stay Frosty. Have a Plan.
God Bless.
Monkey out.